TEST EQUIPMENT FOR TEXTILES 27/12/2022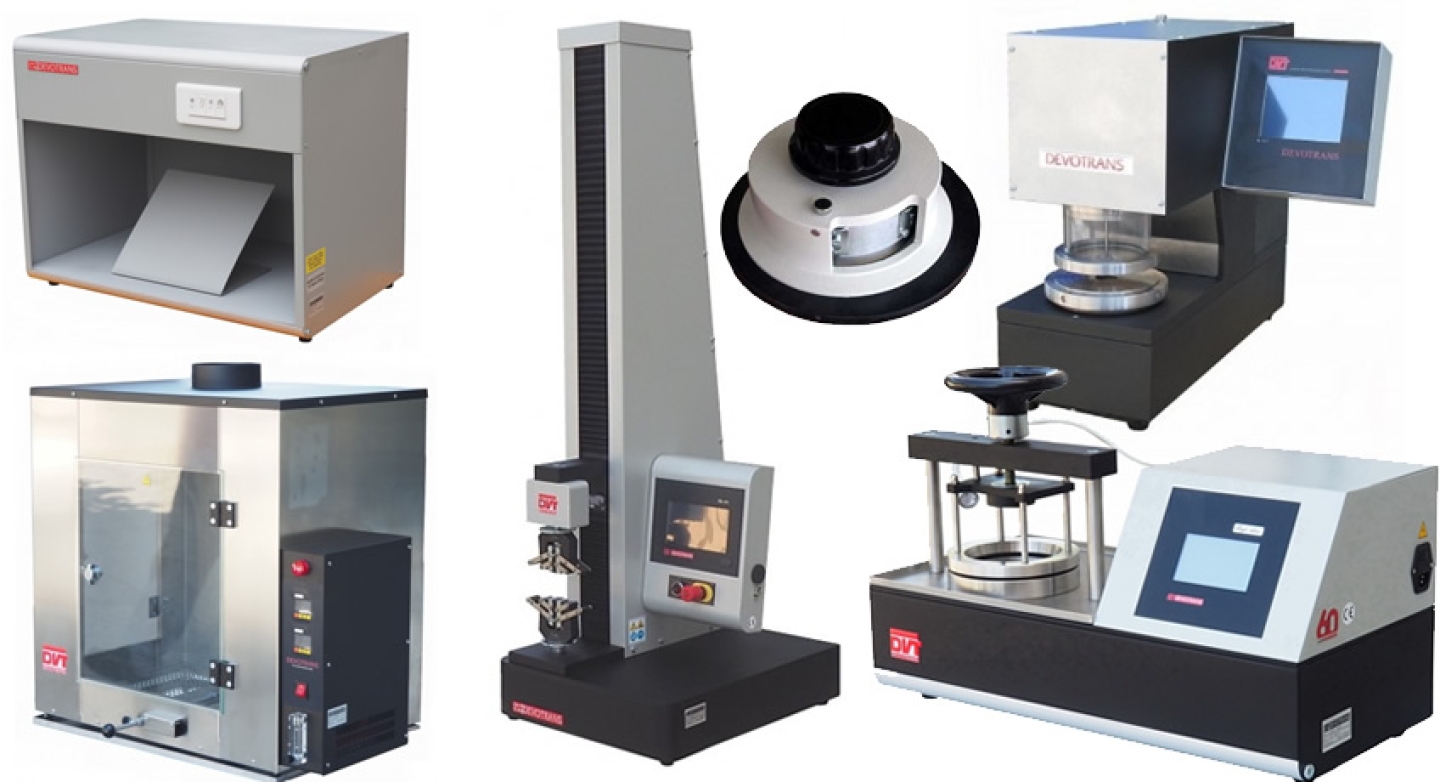 Historically, the textiles industry has greatly contributed to economic development increasing trade volume and creating jobs. The ready-made garments industry is particularly important. This industry plays a significant role in all aspects of human life.
The textiles industry plays a major role in the development of national economies too. It is subject to fierce competition stimulated by technological advances. For manufacturers to have a significant market share in global terms, their products must be of sufficiently high quality. In the textiles industry, it is important to choose the right raw materials to obtain the right features for both yarns and fabrics and to properly conduct quality control tests on the finished product. In this context, test equipment for textiles are used to test the quality and strength of products.
Test equipment for textiles constitute a significant part of the production process for the role they play in testing the quality of the products. They facilitate the textile manufacturers' job. Test equipment for textiles play an active role in conducting tests on textile products to test such features as tearing and breaking strength, colour fastness, puncture and bursting strength, fire resistance, water permeability. tensile strength etc..
Find below explanations on some of the test equipment offered by DVT DEVOTRANS for the textiles industry.
---
TEXTILE BURSTING STRENGTH TESTER DVT TP DLC
DVT DEVOTRANS produces 3 separate bursting strength testers for the textile and leather industries, including DVT TP DLC, manufactured in accordance with the standards ASTM D 3786 and TS 393 EN ISO 13938/1. It determines the force at the moment of bursting under pressure using the hydraulic balloon method.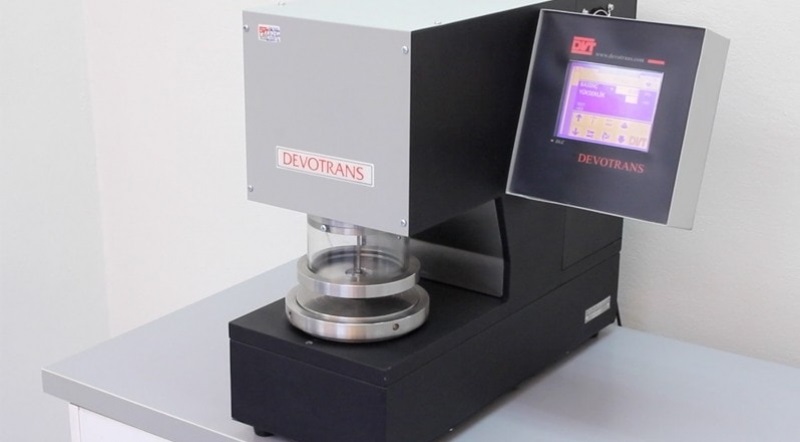 The device is equipped with a pneumatic sample holding unit and a unit measuring the height before the bursting. Automatic volume calculation is another feature of this device.
The adjustable clamping pressure prevents the sample from being damaged. The device stops automatically once the bursting has taken place. A digital screen displays the bursting force.
The device can also receive additional features on an optional basis. For more information, please click the name of the device.
---
FIRE RESISTANCE TESTER DVT YAN G
Manufactured in accordance with the standards EN ISO 6940, TST 5775 EN ISO 6940, TST EN ISO 15025, UL 94 and TS EN ISO 6941, DVT YAN G is used to determine the protection limits of protective clothing and textile fabrics against heat and flame.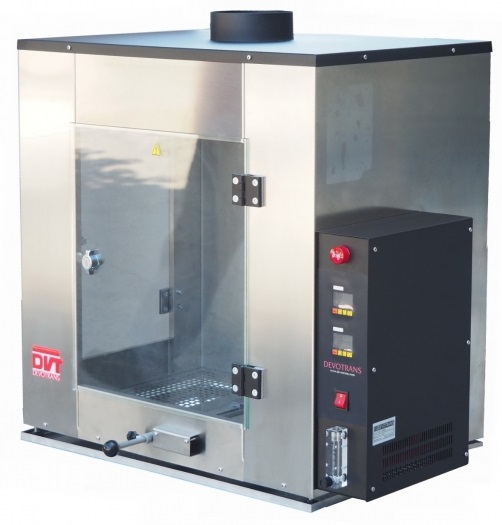 It is used to determine the flammability of textile fabrics or industrial products consisting of a single or multiple components when exposed to a given small amount of flame.
Below are the technical features of this device:
Amount of combustion is measured according to time.
It determined, if the sample is within the limits of combustion.
Flame can be directed to the sample in various angles,
Combustion and going out times are observed separately,
Test duration can be set with 0.1 sec. precision.
---
WATERPROOFNESS TESTER FOR TEXTILES AND MEMBRANES DVT SGT DLC
Manufactured in accordance with the standards ISO 811,TS 257, TS 257 EN ISO 20811 (SG T), DIN 52 123, TS 1974/1974 EN 1734, TS EN 1928 and TS EN 1931, DVT SGT DLC is used to determine the water-tightness of textiles or coated textiles under given amounts of pressure.
It determines under which pressure fabrics, rubber- or plastic-coated fabrics, shoes, boots etc. will let water in.
DVT SGT DLC is equipped with some efficient technical features, including: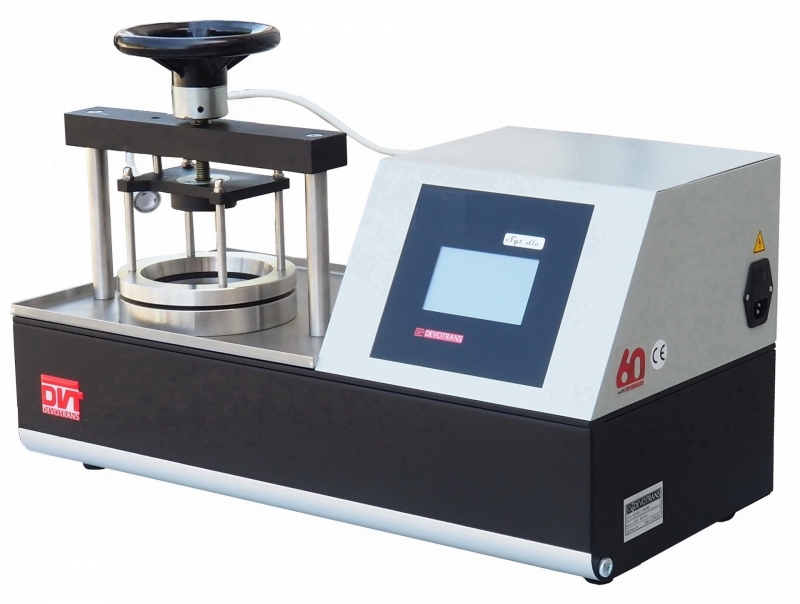 Operation voltage: 220 Volt 50 Hz.
Body coated with electrostatic powder paint.
Maintenance-free robust and reliable structure.
Water drainage outlet.
Sample area lighting lamp.
Sample-holder's mouth equipped with an o-ring seal.
Touch-screen.
Language options: Turkish, English, French and Russian.
Two different rates of pressure increase.
Pressure speed : 10 cm H2O or 60 cm H2O.
Pressure units : mm H2O, cm H2O, Pa, mbar, bar.
Maximum measuring capacity : 1020 cm H2O, 3059 cm H2O or 6118 cm H2O.
Test area : 100 cm2.
The device can also receive additional features on an optional basis. For more information, please click the name of the device. You can also be interested in DVT SGT H DLC.
---
TENSILE COMPRESSION TEST MACHINE DVT BP D NN
This device is widely used in a number of fields of production to conduct opening/closing, breaking, tearing, compression, fracture, stretching, permanent deformation, puncture, flexing, radial loading tests. DVT BP D NN is also used in the textiles industry. It is a single-column model used for capacities up to 3 kN. Manufactured in accordance with the standards TS EN ISO 7500-1/527-3/6892-1, TS 1398-1 EN ISO 527-1, TS ISO 37 and ASTM F 3067, DVT BP D NN is equipped with sophisticated technical features.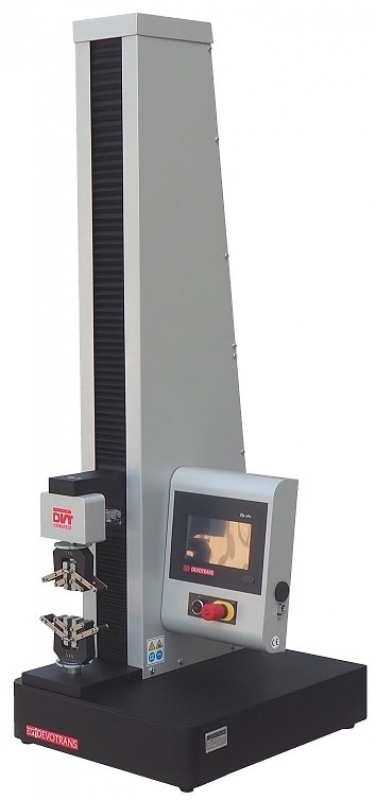 TECHNICAL FEATURES:
Stopping, depending on the Breakout/Fracture or distance.
Maintenance-free, solid and reliable structure.
Colour touch screen.
Rapid return to the starting point.
Emergency stop button.
2-column and single-screw system, monoblock.
Sensitivity: ±0,5%.
In tensile tests, the direction of the movement is upwards.
Operation Voltage is: 220VAC, 50 Hz.
Power consumption: max. 400 W.
Speed option between: 1.000 – 500.000 mm/min.
Specimen diameter (width) is maximum 210 mm.
Movement precision: 0,001 mm.
Force unit: kgf, gf, kN, Newton etc.
Turkish, English, French and Russia language options.
On an optional basis, it can receive custom-made software, computer and printer connections, special jaws and additional units, a speed range between 0.001 – 1000.000 mm/min., an extensometer, warm-cold ambient test chambers and a metal or Plexiglas safety cage.
---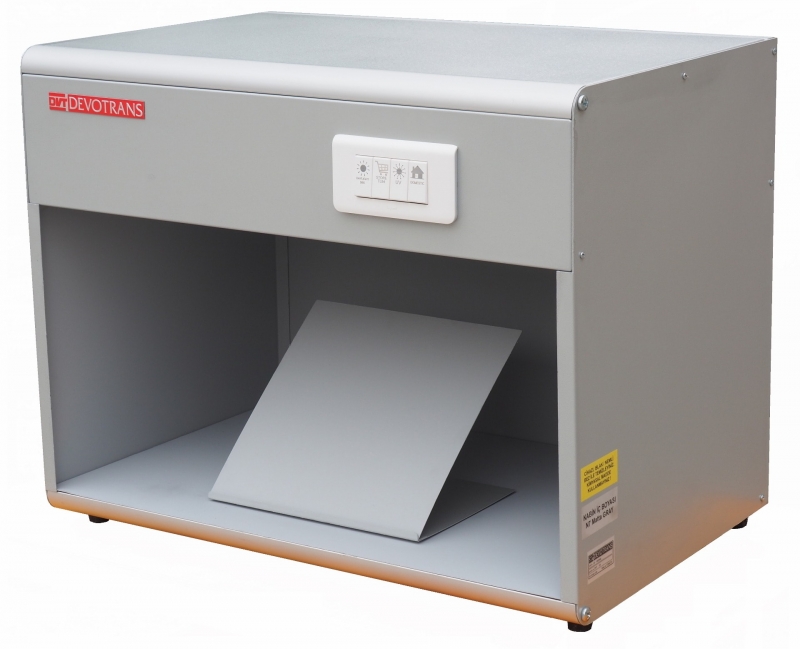 This is a colour assessment cabin used to assess shade and colour differences under reproducible conditions.
The device is coated with anti-shine and anti-glare lustreless paint within the cabin. Operating voltage: 220 V 50 Hz. Four sources of light: daylight (D65), store lighting (TL84), ultraviolet (UV) and domestic lighting (INCA).
Optional features are: table with 45° fixed angle, model with 5 light sources, width options of 60 to 150 cm for observation area.
---
ROUND SHAPED SAMPLE CUTTER DVT D100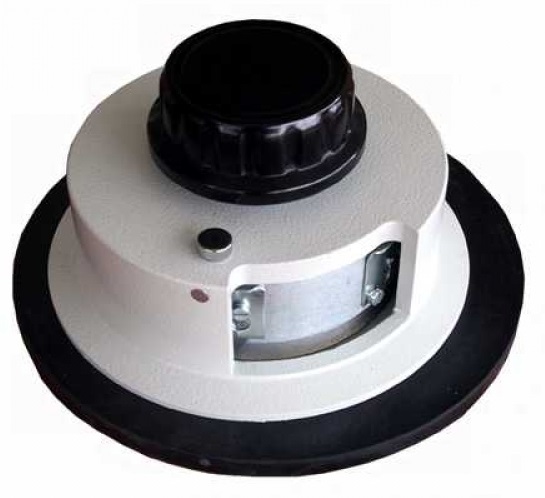 Used in a wide range of industries, round-shaped sample cutters also play an important role in the textiles industry. Manufactured in accordance with the standards ASTM D 1225 (D100V), TS 3122, ISO 186 / 3085 (D100V), TS 635 ISO 186, ISO 3801 and TS 251, Round-shaped Sample Cutter DVT D100 is used to determine the weights of paper, cardboard, textile or leather samples.
It is used to prepare samples in laboratory conditions. It cuts samples in a 100 cm2 area. It comes with a rubber cutting table. It is coated with an electrostatic powder paint and equipped with 4 blades which provide quick and easy cutting. It is equipped with a blade safety lock. The cutting process is conducted with 45-degree rotations.
DVT DEVOTRANS manufactures a large number of testers for the textiles industry. To examine them click here. For other products, click PRODUCTS or contact us.
Note: The products or links mentioned in the article may not be updated. For up-to-date information please contact us.