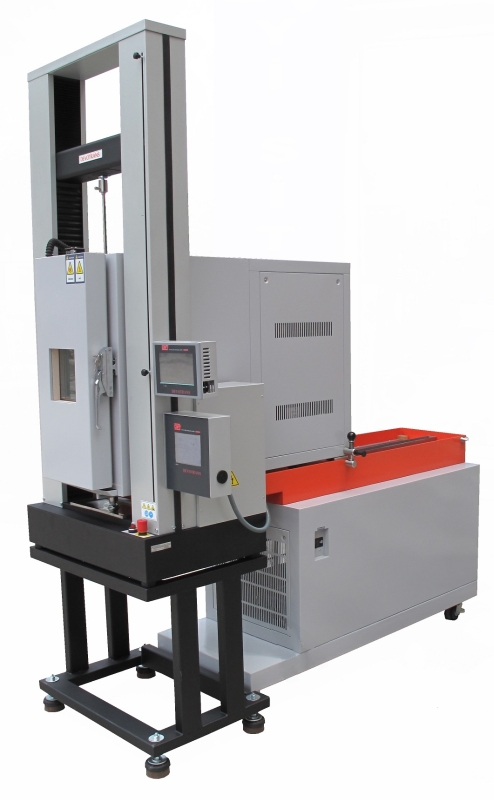 TENSILE, COMPRESSION TESTING MACHINE DVT GP D GU DVT GP D GU
Used for measuring endurance of materials. If the option of extensometer is chosen, high precision measurements are possible.
USED IN
Technical information
Operating voltage: 220VAC, 50 Hz.
Power consumption is: max. 1 KVA.
Speed adjustment is between 0.001 -500.000 mm/min.
Colour touch screen.
Double columns, double screws system.
Emergency stop button.
Rapid return to the starting point.
Programmable stop option.
Sensitivity: ± 0.5%.
Motion sensitivity: 0,001 mm.
Force unit: Newton, kN, kg or MPa.
Stops, depending on the breakout, breakage and distance.
Turkish, English, French and Russia language options.
Optional add-ons
Different jaw models available.
Computer and printer connections.
Additional equipments for special tests.
Extensometer.
Warm - cold ambient test chambers.
Metal or plexiglas safety cage.
Light barrier.
MATERIALS CAN BE TESTED
Aluminum, copper, spring, sheet metal profile…
Steel, iron…
Jute, Cable, steel wire…
Plastic products, Automotive and supplier industry,
Forest products, Construction materials,
Glues,
Fabrics, leather, artificial leather, zipper,
Glass, porcelain, paper etc.
Approximate dimensions and weight
Width : 93 cm
Depth : 52 cm
Height : 163 cm
Wight : 155 kg
SOME OF THE TESTS CAN BE APPLIED
Product testing, such as opening/closing, fracture, tearing, compression, breaking, stretching, permanent deformation, puncture.
RELEVANT STANDARDS
TS EN ISO 7500-1/527-3/6892-1/
TS 1398-1EN ISO 527-1