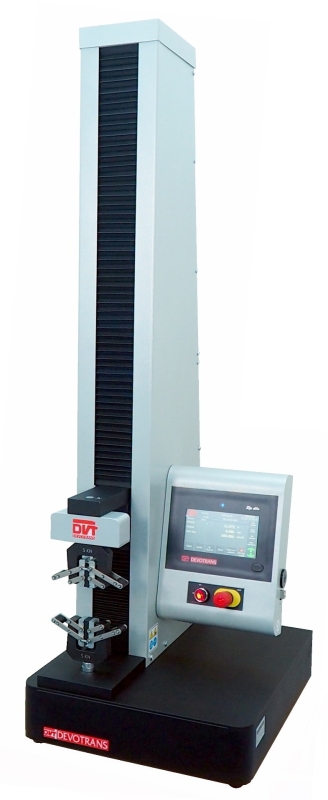 TENSILE, COMPRESSION TEST MACHINE DVT BP D NU DVT BP D NU
Single-column model used for capacities up to 3 kN.
SOME OF THE TESTS CAN BE APPLIED
Product testing, such as opening/closing, breaking, tearing, compression, fracture, stretching, permanent deformation, puncture, radial loading.
USED IN
Technical information
Stopping, depending on the Breakout/Fracture or distance.
Maintenance-free, solid and reliable structure.
Colour touch screen.
Rapid return to the starting point.
Emergency stop button.
2-column and single-screw system, monoblock.
Sensitivity: ±0,5%.
In tensile tests, the direction of the movement is upwards.
Operation Voltage is: 220VAC, 50 Hz.
Power consumption: max. 400 W.
Speed option between: 1.000 – 500.000 mm/min.
Specimen diameter (width) is maximum 210 mm.
Movement precision: 0,001 mm.
Force unit: kgf, gf, kN, Newton etc.
Turkish, English, French and Russia language options.
Optional add-ons
Custom made software.
Computer and printer connections.
Special jaws and additional units.
Speed option between: 0.001 – 500.000 mm/min.
Extensometer.
Warm-cold ambient test chambers.
Metal or plexiglas safety cage.
Test subjects
Aluminum, copper, spring, sheet metal profile …
Cable, , conductive, socket
Fabric, thread, jute ...
Glass, porcelain, tiles …
Shoe, slipper…
Leather, artificial leather
Rubber, plastic products …
Glue, paper …
Gauze, plaster …
Zipper …
Approximate dimensions and weight
Width : 470 mm
Depth : 560 mm
Height : 169 mm
Wight : 120 Kg
RELEVANT STANDARDS
TS EN ISO 7500-1/527-3/6892-1
TS 1398-1 EN ISO 527-1
TS ISO 37
ASTM F 3067