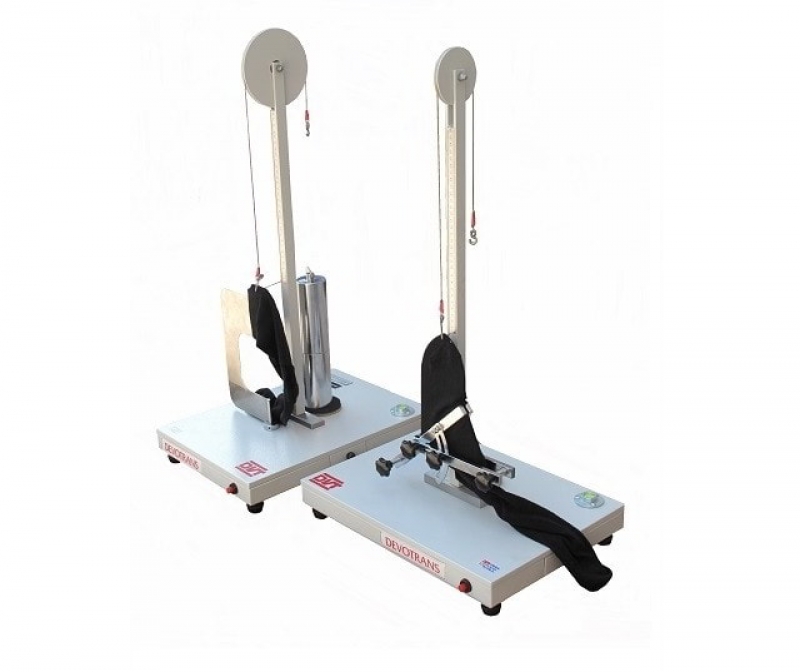 (LONGITUDINAL AND TRANSVERSAL) FLEXIBILITY TESTER FOR SOCKS DVT CED E B DVT CED E B
Assigned to test the flexibility of knitted socks, in longitudinal and transverse. This tester consists of two separate devices.
USED IN
Sock manufacturers
Wholesale buyers
USED IN
Technical information
All socks, small, medium and large sizes, are tested in elasticity measurement.
Masses of various types of sockings are suitable for this unit.
First model is lateral – elasticity tester
Second ones is longitudinal - elasticity tester
Necessary masses are supplied with unit.
Provides standardized structure and ease-of-use.
Optional socks abrasion device is also included in our production line.
Test subjects
Wool socks.
Nylon sockings.
Cotton socks.
Nylon – cotton mixed socks.
Silk sockings.
Mercerized socks.
Fiber, mixed socks.
Plain socks
Sports socks
Fancy sockings
Low-cut, ankle dress, over-knee socks
Approximate dimensions and weight
Wiidth: 42 cm.
Depth: 42 cm.
Height: 75 cm.
Gross weight : 14 Kg.
RELEVANT STANDARTS
TS 401
TS 3595
EN 13770 (çorap aşındırma)