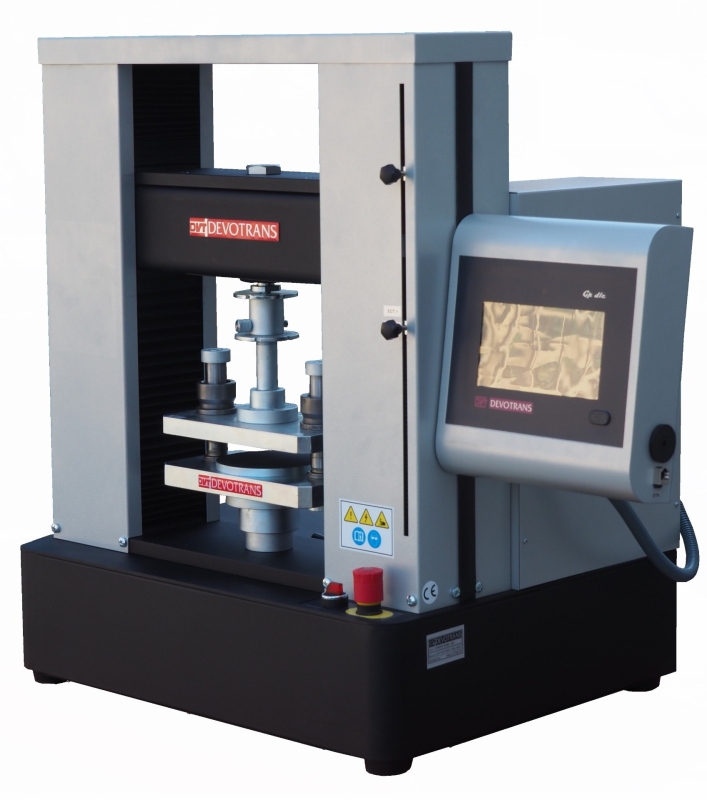 PRODUCT VIDEO WATCH
COMPRESSION TESTING MACHINE DVT GP D S32 K DVT GP D S32 K
Specially used in compression, fracture, permanent deformation tests of corrugated card board boxes and plastic pipes.
USED IN
Technical information
Touch screen.
Emergency stop button.
2 columns system.
Precision : ±0,5%.
Operation voltage : 220VAC, 50 Hz.
Power consumption : max. 1 KVA
Speed adjustment : between 0,001-500.000 mm/min.
Movement precision : 0,001 mm.
Programmed stop.
Stopping, depending on the Compression/Fracture or distance.
Standard software is available.
Newton, Kg or MPa options.
Turkish, English and French language options.
Maintenance-free, solid and reliable structure.
Optional add-ons
Different jaw models available.
Computer and printer connection.
Additional units for specific tests.
Special movement precision.
Special speed control range.
Extensometer.
Hot- cold ambient cabins.
N/s option.
Metal or plexiglas safety cage.
Light barrier.
Test subjects
MATERIALS CAN BE TESTED
Corrugated card board , plastic pipes, glass, porcelain, tile, cement based materials, automotive products, forestry products, construction materials…
Approximate dimensions and weight
Width : 82 cm
Depth : 52 cm
Height : 76 cm
Wight : 95 kg
Information
SOME OF TESTS CAN BE APPLIED
Product testing such as compression, closing, fracture, stretching, permanent deformation.
RELEVANT STANDARDS
TS EN ISO 12048
EN 22872
TAPPI T 804
FEFCO 50
AFNOR H 13-001
TS EN ISO 7263 (DVT GP D S32 K)
TAPPI T 809 (DVT GP D S32 K)
ISO 3037 (DVT GP D S32 K)
ISO 3035 (DVT GP D S32 K)
TS EN ISO 9969
TS EN ISO 13968