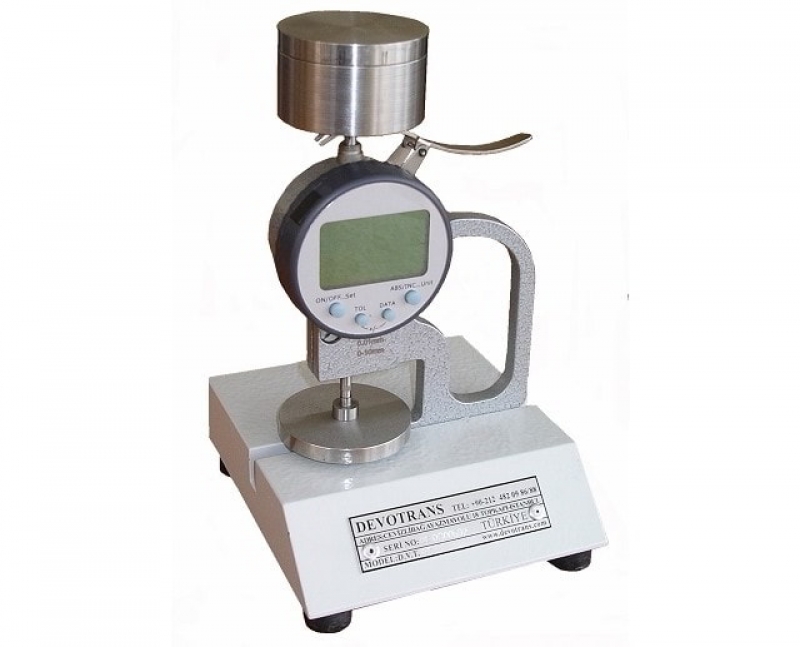 THICKNESS GAUGE TABLE TYPE DVT KO DVT KO
Designed to measure the thickness precisely.
Applies vertical force on the sample. Safe structure.
Constant force application maintains similar values.
USED IN
Technical information
Digital or needle model option.
Various force loads option.
Bottom and upper test faces option.
Model option according to sample depth.
Options according to maximum sample thickness.
Accuracy measurement : from 0.1 mm to 0.001 mm.
Table option at various sizes.
Approximate dimensions and weight
Width : 120 mm.
Depth : 130 mm.
Height :180 mm.
Weight : 3.5 Kg.
RELEVANT STANDARDS
ISO 2589 / 3034
ISO 1765 / ISO 3616
ISO 5084 /ISO 9073
TS EN 12431
BS 4817
BS 29073
BS 2544
BS 4098
BS 3424
BS 4223
BS 4051
DIN 53105
ASTM D 645
ASTM D 1777