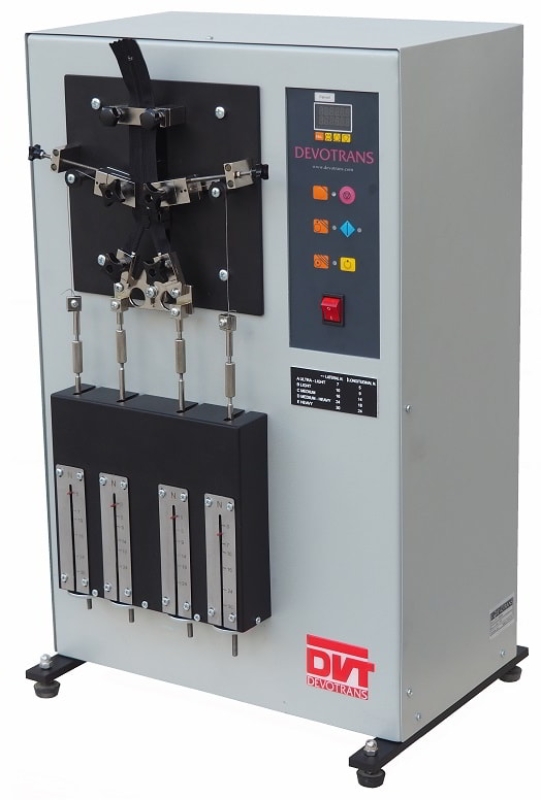 PRODUCT VIDEO WATCH
ZIPPER LIFE TESTING DEVICE DVT FTY DVT FTY
Open-close tests are applied, for zippers, under the load.
Force to be applied to tape, by the type of zipper :
Type Lateral Force N. Longitudinal Force N.
Very light 7 5
Lightweight 10 9
Medium 16 14
Medium-Heavy 24 18
Heavy 30 24
USED IN
Technical information
Operating Voltage: 220 VAC, 50 Hz.
Experiments are made for.life tests of zipper materials.
Tests can be performed under the lateral or longitudinal force.
Test is being performed up to a pre selected number.
Numbers of tests may be 250, 500.or another.
Zipper tensioning device is c/w the tester.
Life tests are.performed for all kind of zippers (from very light up to the heavy).
Test subjects
• Zippe.
• Furniture.
• Textiles.
• Underwater objects.
• Bags.
• Tent.
Approximate dimensions and weight
Width : 45 cm.
Depth : 35 cm.
Height : 74 cm.
Weight : 35 Kg.
Information
For metal and plastic zipper.
Determination of integral strength of bottom stop at ended zippers.
For metal zippers, determination of chain …..and breakage point strength under lateral force.
For plastic-molded zippers, determination of chain and breakage point strength under lateral and longitudinal force.
Determination of pull tab resistance.
Pull tab deformation test.
RELEVANT STANDARDS
TS 11 516
ASTM D 2061
BS 3084