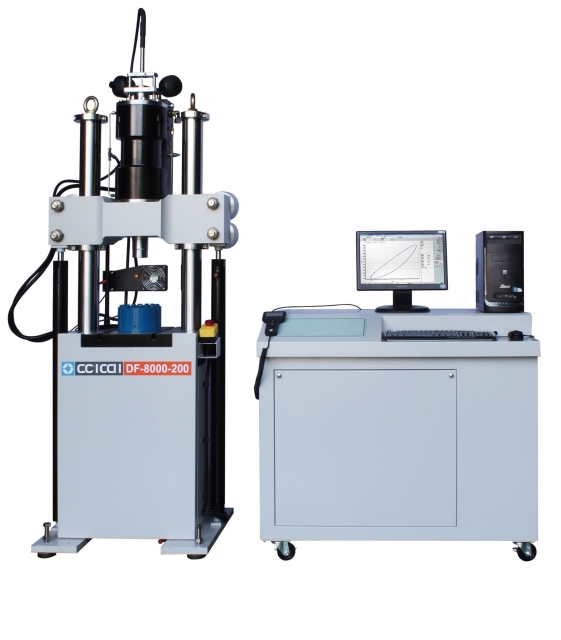 DYNAMIC FATIGUE TESTING MACHINE ZGT DF 8000 ZGT DF 8000
Used to determine the durability of materials such as metals, plastics, rubber and complex stuff.
It uses the cyclic tensile, compression or flexure strain under specified load, stroke and frequency to evaluate the material's service life cycle.
Equipped with a high-speed controller and a professional program to generate waveforms such as sine, square and triangular or the waveform defined by the user.
USED IN
TECHNICAL INFORMATION
Power: 3-phase 220/380V 15 kw/20 Hp.
Easy-to-use operation program.
High standard hydraulic cylinder design ensures steady response hydraulic control.
High precision of frequency control.
Capacity options: 5, 10, 25, 50, 100, 200, 500 or 1000 kN.
Stroke: ±25 mm / ±50 mm (optional).
Frequency: 0.01 – 50 / 0.01 - 100 Hz (optional).
Upper holder movement distance: 500 mm.
Distance between columns: 400 mm.
Hydraulic upper-holder.
Upper holder securing clamp.
APPROXIMATE DIMENSIONS AND WEIGHT
Main unit Hydraulic power pack
Width: 80 cm 110 cm
Depth: 60 cm 100 cm
Height: 225 cm 130 cm
Weight: 1200 kg 900 kg