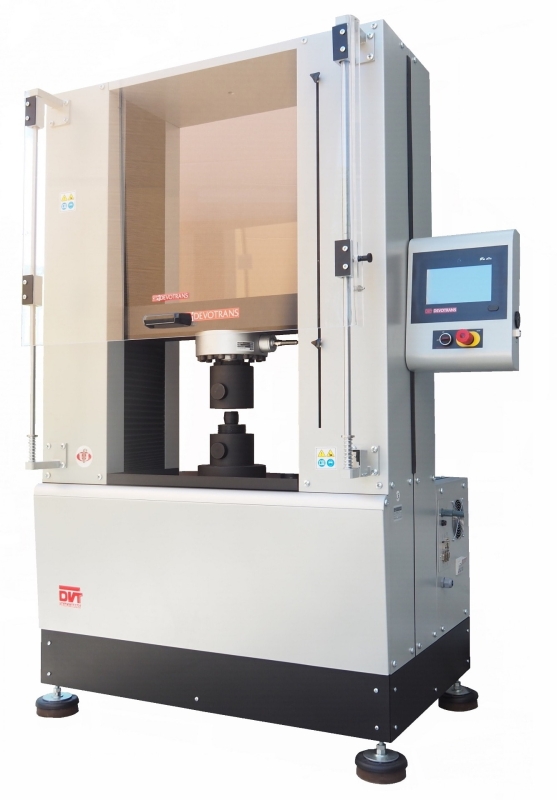 TENSILE AND COMPRESSION TEST EQUIPMENT DVT FU30 D NN DVT FU30 D NN
For tensile and compression tests on high resistance materials such as metals etc.
USED IN
Metal manufacturers.
Wire manufacturers.
Laboratories.
Rope manufacturers.
USED IN
TECHNICAL INFORMATION
Stopping, depending on the Breakout/Fracture or distance.
Maintenance-free, solid and reliable structure.
Colour touch screen.
Rapid return to the starting point.
Emergency stop button.
System with 4 columns and 2 screws.
Capacity: 20 tons, 25 tons or 30 tons.
Precision: ± 0.5%.
Direction of movement: Upwards in tensile tests.
Operating voltage: 220/380 V, 50 Hz, triphased.
Energy consumption: 5,5 KVA.
Force unit: Newton, kg or Mpa.
Range of velocity: 0.001 – 250.000 mm/minutes.
Turkish, English, French, Russia language options.
SOME OF THE TESTS CAN BE APPLIED
Break, compression, extension, permanent deformation, piercing tests.
MATERIALS CAN BE TESTED
Metals, springs, sheet metal profiles.
Steel, iron.
Cables, steel wires.
Car industry and car industry suppliers.
Forestry products.
Building materials and adhesives.
Fibre-reinforced composites.
RELEVANT STANDARDS
TS EN ISO 7500-1/527-3/6892-1
TS 1398-1 EN ISO 527-1
TS ISO 37
OPTIONAL ADDITIONS
Specially developed software.
PC-controlled customized manufacturing.
Computer and printer connection.
Different jaw models available
Additional devices for special tests.
Extensometer.
Cubicles for hot and cold environment tests.
Metal safety cage.
Range of velocity: 0.001 – 500.000 mm/minutes.