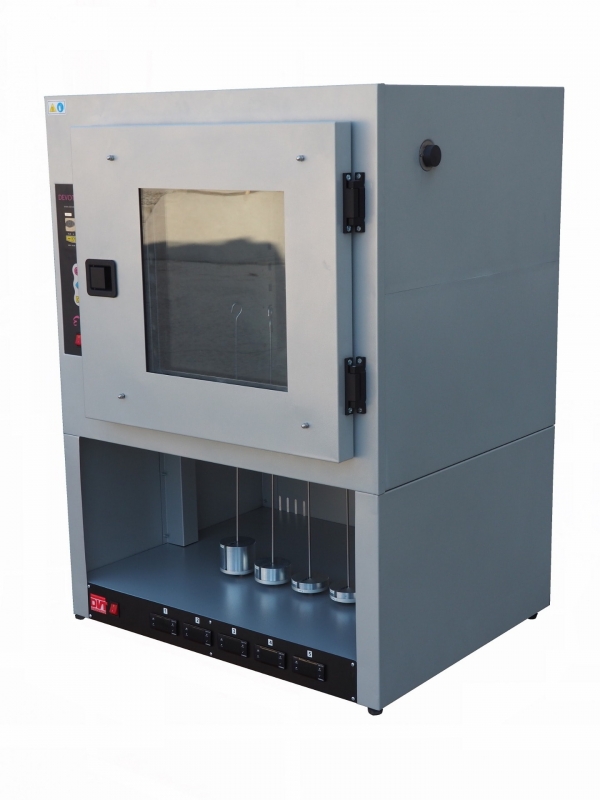 PRODUCT VIDEO WATCH
HOT ADHESION TESTER FOR SHOES/LEATHER ITEMS DVT ASY DVT ASY
Tests the strength to heat of the bond created by moulding adhesives used in shoes under increasing temperature.
USED IN
Shoe manufacturing
Adhesive production
USED IN
TECHNICAL INFORMATION
Operating voltage: 220 Volt 50 Hz.
Temperature display.
Possibility of testing 5 samples.
5 time displays (one for each sample).
Stop time switch.
Possibility of observing the test process.
Door made from heat-proof silicone and cabin insulation seals.
Homogeneous temperature within cabin thanks to air circulation system.
Temperature setting from room temperature +5°C to 100°C.
Inside of cabin made from stainless steel or with aluminium eloxal.
APPROXIMATE DIMENSIONS AND WEIGHT
Width: 82 cm.
Depth : 71 cm.
Height: 113 cm.
Weight: 107 kg.
ACCESSORIES
Weights of 1 kg, 2 kg, 3 kg, 4 kg and 5 kg.