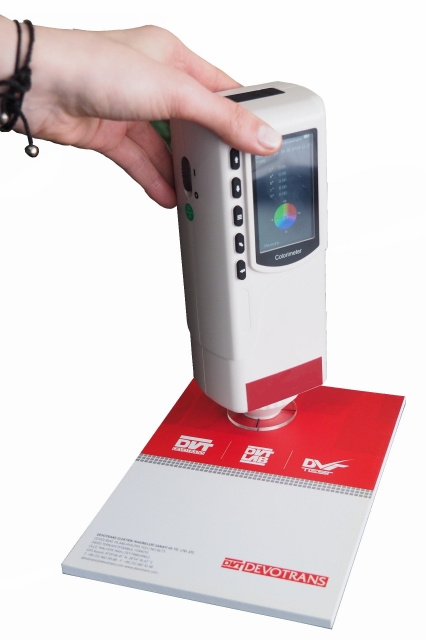 Automatic white and black calibration.
Measuring of different colors.
Suitable for many different surfaces.
Easy to use.
Including PC software.
Measuring geometry: 8°/d.
Measuring aperture: Ø 4 mm.
Sensor: Silicon photoelectric diode.
Color spaces: CIE L*a*b*C*h, CIE L*a*b, CIE XYZ.
Color difference formula: ΔE*ab, ΔL*ab, ΔE*C*H.
Light source: D65.
Light source device: LED blue light.
Storage: 100 reference values, 20,000 samples measurements.
Repeatability: Standard deviation withinΔE*ab 0.08.
Measurement conditions: average of 30 measurements of standard white plate.
Power supply: Rechargeable lithium-ion battery.
Charging time: 8 hours.
Battery life: approx. 5,000 measurements.
Lamp life: 3 years, more than 1.6 million measurements.
Storage conditions: Air temperature: 0 ... +40 °C, Air humidity: 0 ... 85 % RH, non-condensing.
USED IN
ACCESSORIES
USB connection cable.
Carrier bag.
Calibration plate (white).
APPROXIMATE DIMENSIONS AND WEIGHT
Width: 205 mm.
Depth: 67 mm.
Height: 80 mm.
Weight: 405 g.