History

1960

1967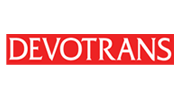 1980

1997

2010

2015
DESIGN & PRODUCTION
DEVOTRANS designs its products under its own organization and manufactures them in its own facilities.
Besides its over 600 standard design products, DEVOTRANS also undertakes custom designs and productions.
Such custom designs may be of the nature of developments built on existing designs or totally new creations.
Thanks to its knowledge and experience in the field of design, DEVOTRANS is capable of meeting a major part of the test equipment requirements of a number of different sectors.
IMPORT
In addition to the sales of products of its own design and manufacturing, DEVOTRANS also operates as a distributor for a number of brands relating to test devices and agricultural harvesting machinery. In this context, Devotrans imports products and materials from nearly 20 countries.
EXPORT
DEVOTRANS exports its products to 64 countries. Thanks to an expanding network of distributors, its foreign sales increase every passing day. Find below a list of the countries to which DEVOTRANS exports its products: Algeria, Austria, Australia, Armenia, Argentina, Azerbaijan, Belarus, Belgium, Bosnia and Herzegovina, Bulgaria, Colombia, China,Egypt, England, Estonia, Ethiopia, France, Finland, Georgia, Germany, Greece, Ireland, Italy, India, Indonesia, Ivory Coast, Israel, Jordan, Kazakhstan, Korea, Kyrgyzstan, Lebanon, Libya, Luxembourg, Macedonia, Malaysia, Montenegro, the Netherlands, Northern Cyprus, Oman,Qatar, Uzbekistan, Pakistan,Poland, Portugal, Romania, Russia, Saudi Arabia, South Africa, Serbia, Singapore, Slovakia, Spain, Tajikistan, Thailand,Tunisia, Turkmenistan, UAE, Ukraine, USA, Vietnamese…