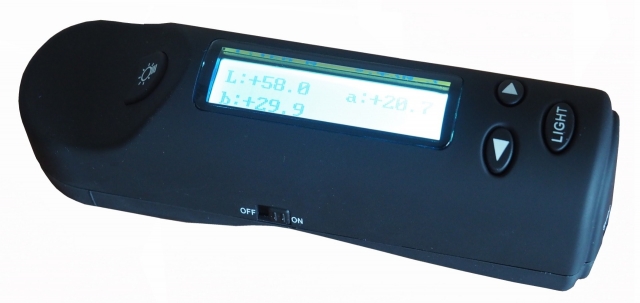 Used to measure colours in products (δl, δa, δb).
USED IN
APPROXIMATE DIMENSIONS AND WEIGHT
Width: 171 mm.
Depth: 50 mm.
Height: 50 mm.
Weight: 204 g.
TECHNICAL INFORMATION
Power: AC 15V battery.
Sensitivity: 0.2 ΔE*ab.
Reading type: ΔE*ab' CIE_ Lab, ΔL, Δa, Δb, CIE_Lch.
Range of measurement: L: 0-100, a: -128 - 127,
b: -128 - 127.
Test time: 3 sec. (approximately).
Test range: 2 sec.
Minimum measurement area: Ø8 mm.
Test observation angle: CIE 10° standard observation.
Light source: c light source.
Operating temperature: 0 - 40°C.
Colour measurement to be conducted on a smooth surface.
ACCESSORIES
USB connection cable.
CD.
Carrier bag.